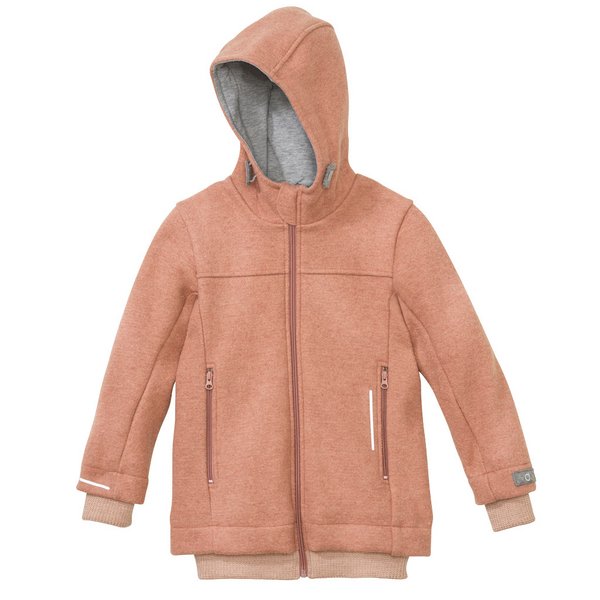 Boiled Wool Outdoor Jacket | Rosé
Our "in-all-weathers-suitable-jacket" made of cosily warm organic merino wool has got a new design. Better than ever. Body and arms are pre-shaped. The thereby newly formed fit makes the jacket even more pleasant to wear. The child is now able to stretch out the arms without the band around the body sliding up. This is prevented by the so called "high reach" cut, mainly used for climbing sports clothing. This technique makes sure that belly and back stay nice and warm.
Spots that are particularly under heavy strains were optimized. Seams such as the one on the forearm were moved. The wristbands were strengthened thanks to an additionally integrated thread. A jacket with a long lifetime. In order that the child doesn't lose anything, the pockets are equipped with zippers now. Reflectors bring more safety in the dark.
The hood's fit has been improved as well. 
Our outdoor-jacket combines the full potential of the current "natural textiles-technique" with timeless design. And the wonderful characteristics of pure organic wool.
MATERIAL
100% organic Merino wool, lining 100% organic cotton.
SIZING NOTES
We suggest going by the height range and not the age range
Ethically Made in Germany
PRODUCT CARE
It is best to wash wool as little as possible. Wool is self-cleaning. Wool fibres have an extraordinary surface that rejects dirt particles, as well as bad odors and sweat and stops them from entering the fibres. Airing is often enough to remove the dirt particles from the surface and to make the woolen article hygienically clean.
We advise you to hand wash all your Disana articles as they are made from natural, untreated wool. Machine wash at your own risk as shrinkage is possible and can even destroy items if you are not careful.
It's best to hand wash in your bathroom's sink. It has the right volume and an ergonomic working height. You also need a mild wool shampoo or a natural baby shampoo. Wash with Luke warm water (25 Degrees), add the wool shampoo and mixer into the water, then add the woollen item to be washed.