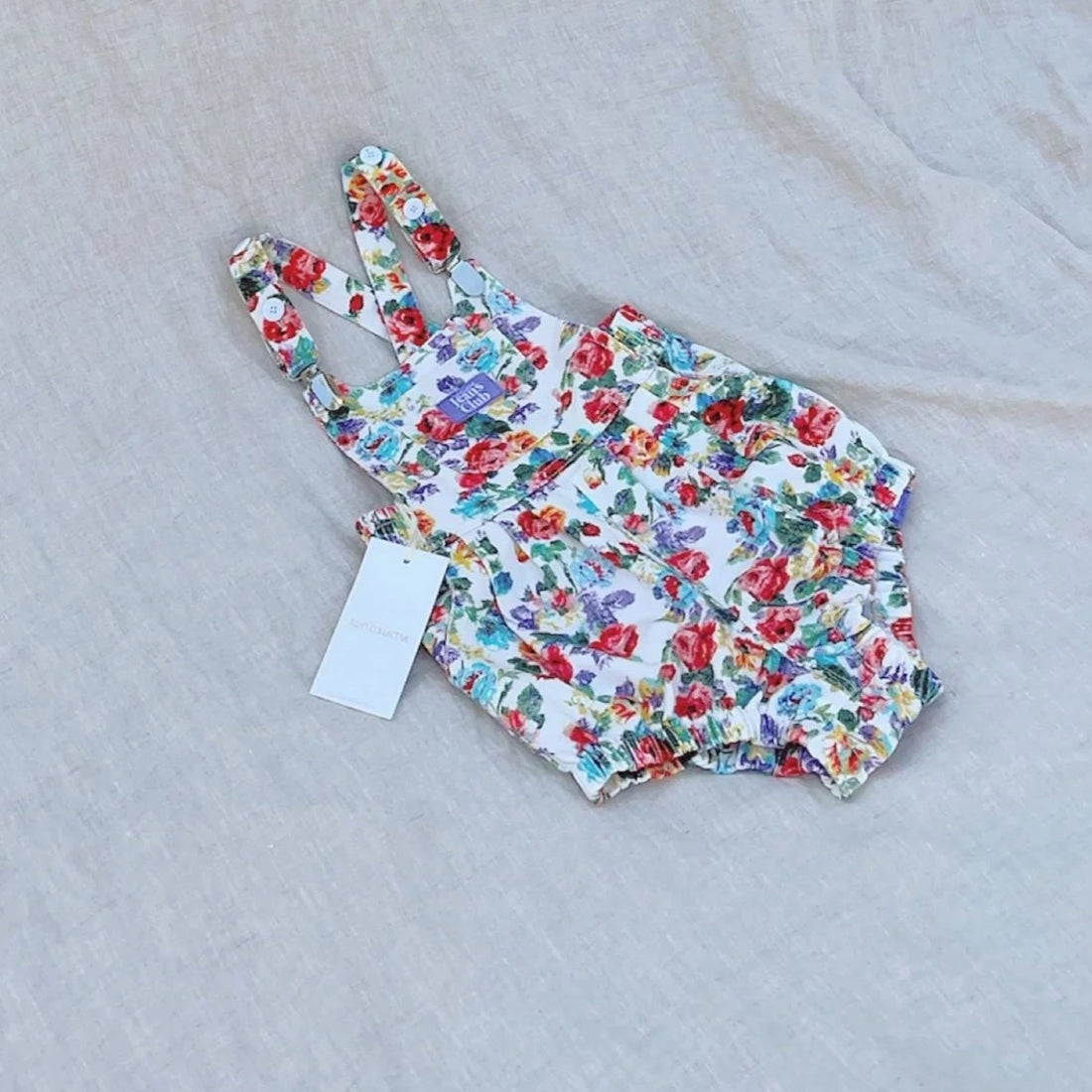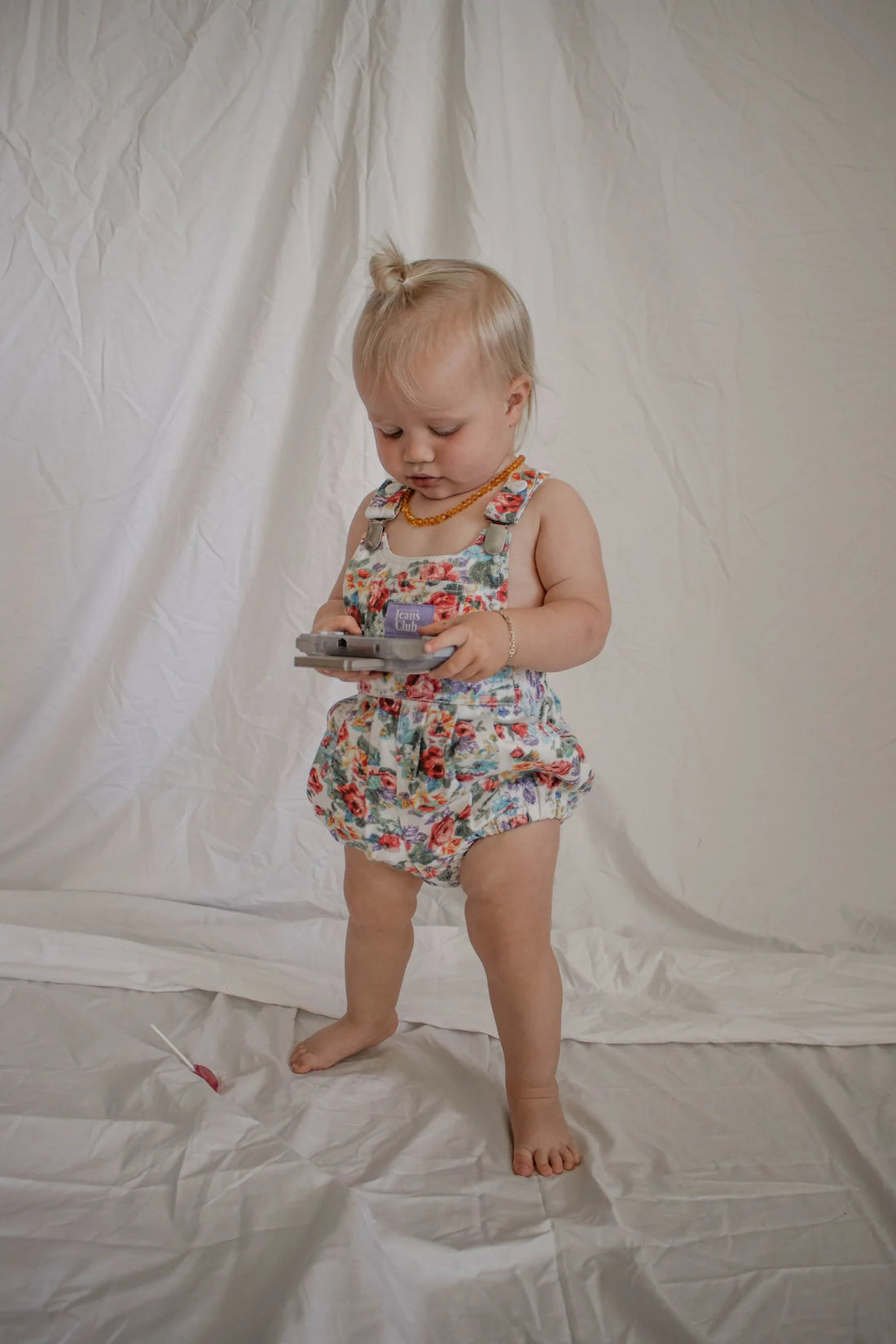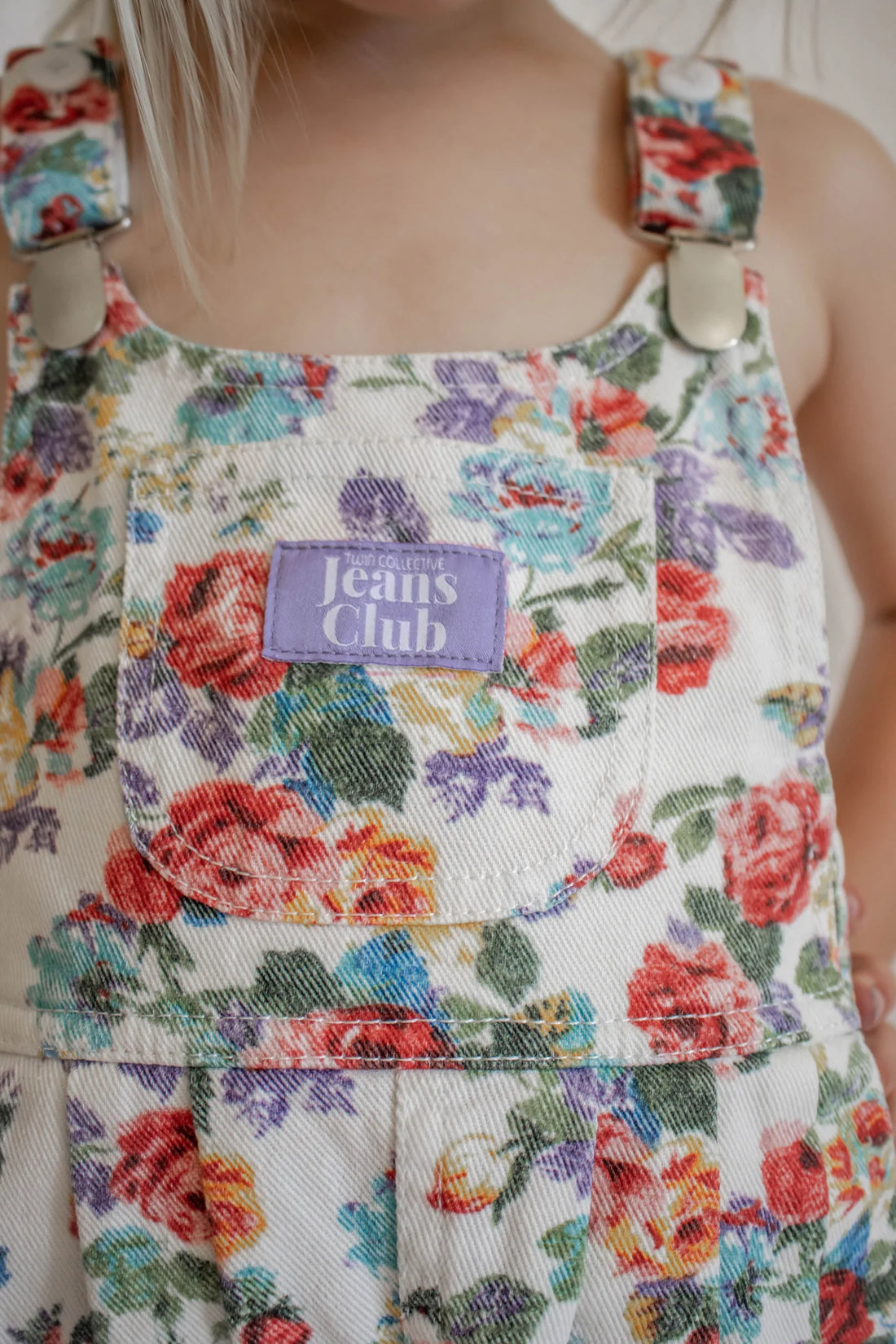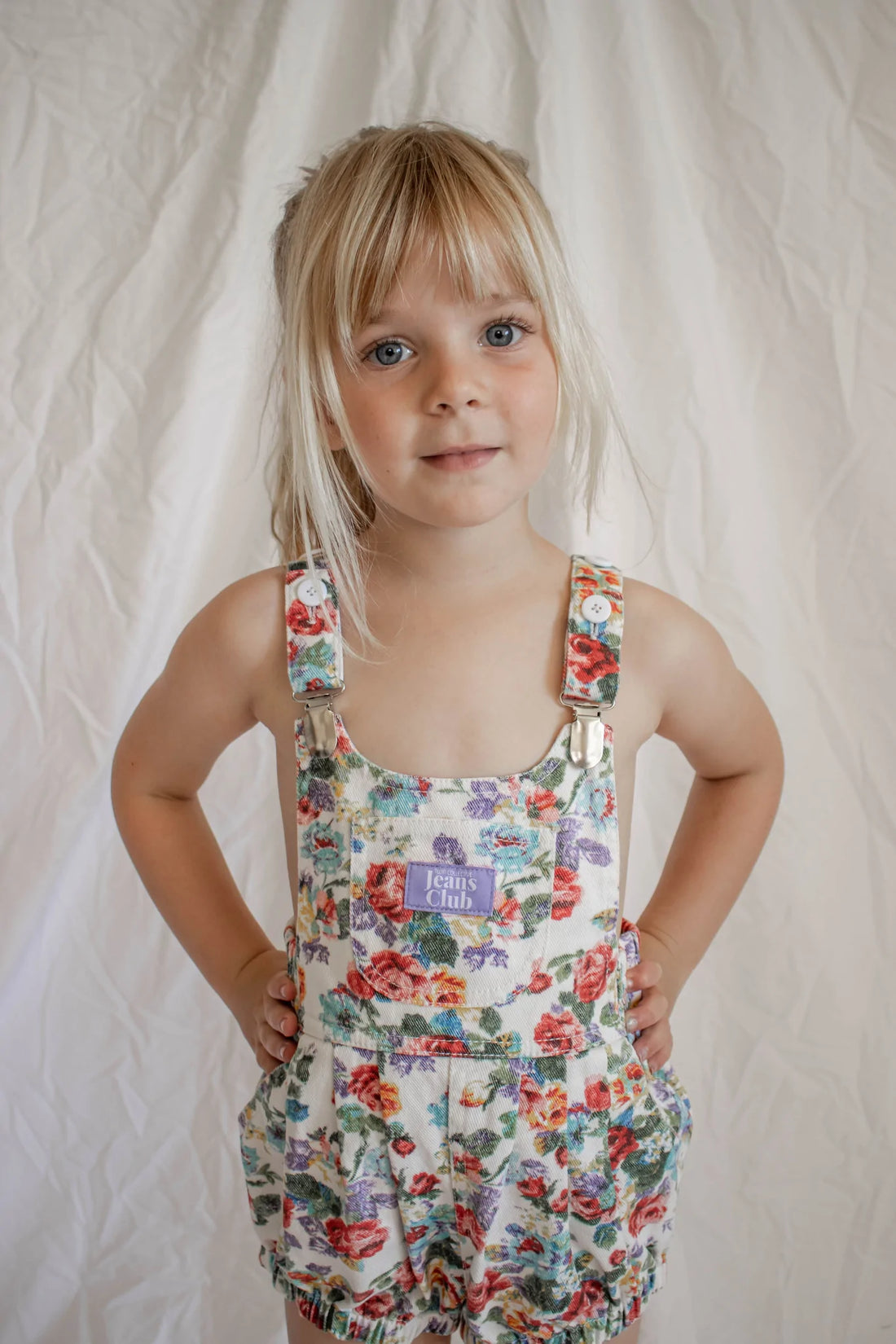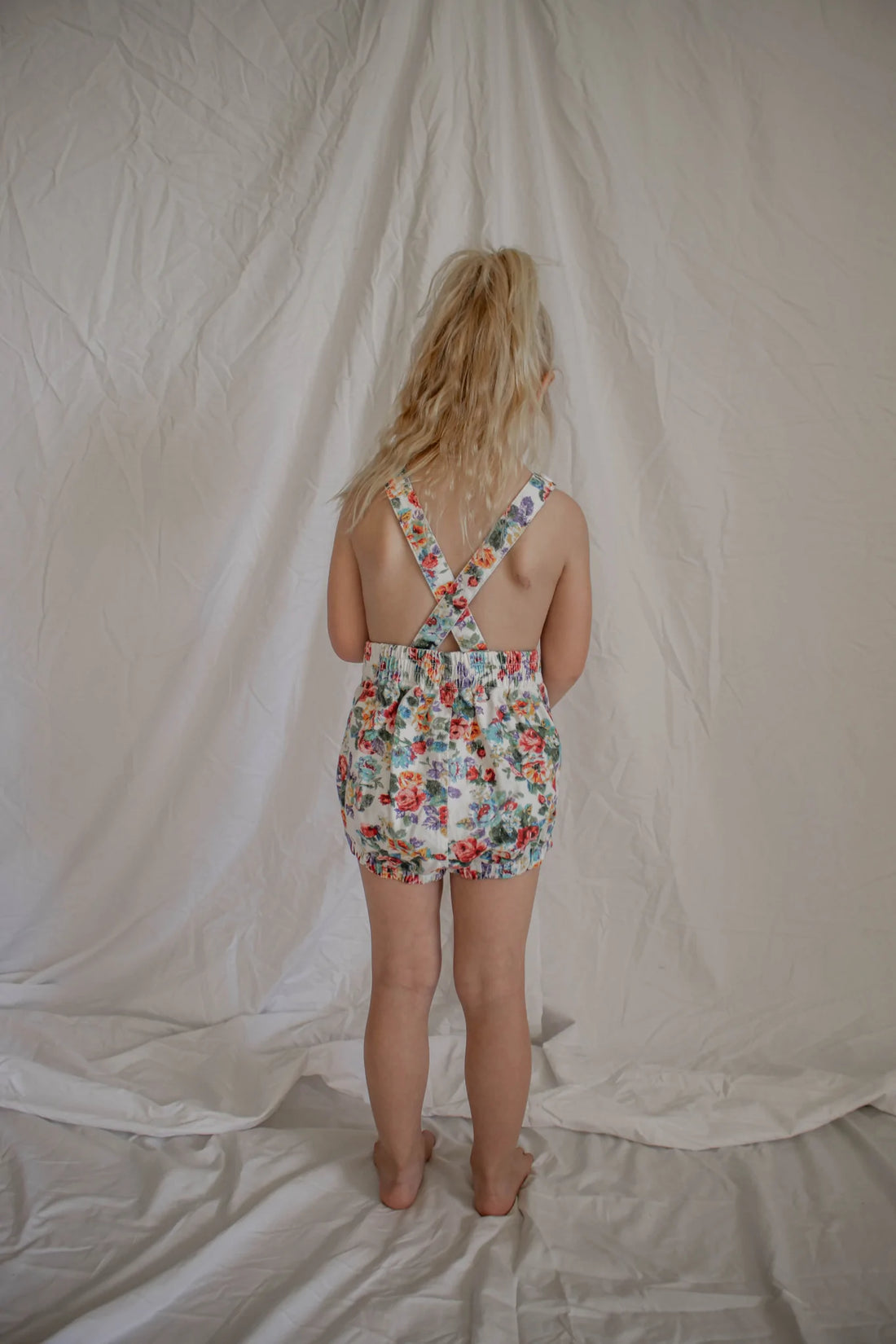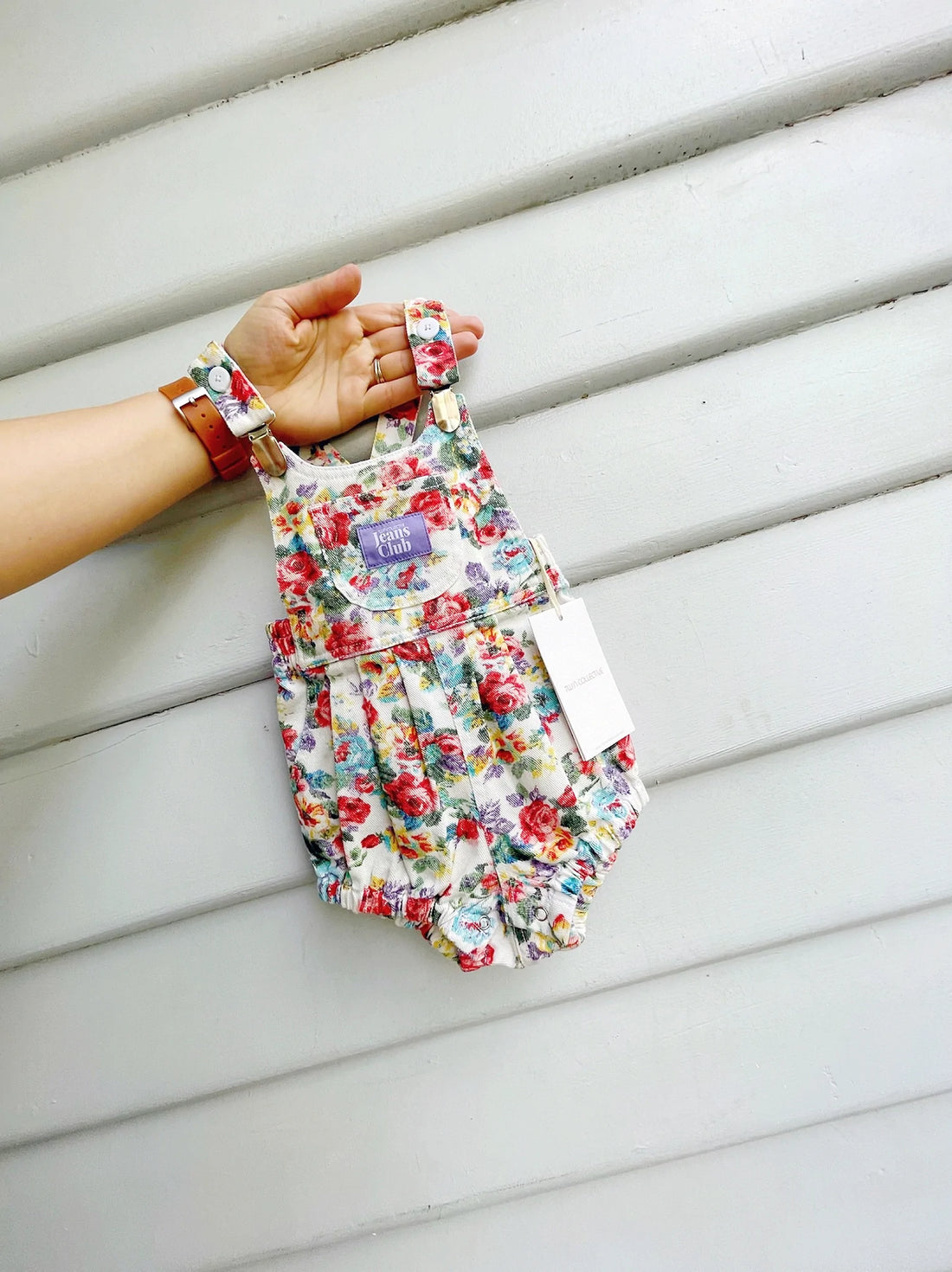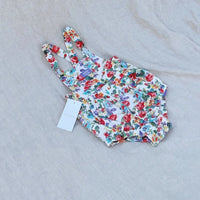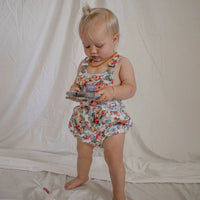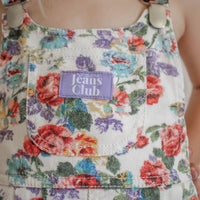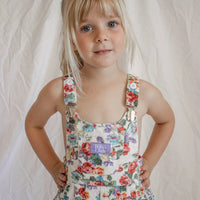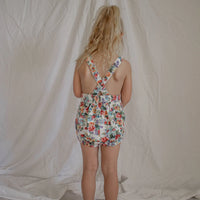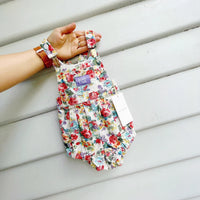 Bowie Bubble Romper | Floral Denim
WELCOME TO THE JEANS CLUB
Our Floral print is inspired by 80s & 90s floral prints!  Think Tiffany Amber Thiessen in Saved by the Bell, 90210, Pretty in Pink & Princess Diana snapped in floral jeans with her young princes.
Our Bowie Bubble Romper has functional suspender clips, side pockets & adjustable straps with 3 button length options.
Sizing of the bubble shape is roomy around the hips so keep in mind when your child stops wearing a nappy, they will be looser again.  With the adjustable straps, your child can wear these bubbles for an extra year or so :)
FABRIC: 100% Cotton Floral Print in durable 11oz weight denim.
SIZING
True to size
CARE
Please note due to the denim washing process some pieces may vary in shade & colour slightly.  The natural indigo dye used to make denim fades naturally with wash, wear & sun. Enjoy seeing how these natural wear patterns appear.  
We want your minis favourite jeans to last through their adventures & ideally be passed down for the next little one to explore in also!
Follow some of our tips to help your denim items last:
INDIGO DYES
Please note the indigo colour may transfer onto other surfaces during the first & sometimes second wear.  This is very common for all types of mid blue to dark blue washes of any type of denim apparel.  Once they have been through 1-2 wash cycles any excess colour will be removed. So avoid wearing with light coloured clothing, white sneakers or sitting on that white sofa for the first couple of wears just in case!
WASHING
Always wash in cold water & turn the garment inside out.  By doing this you protect the surface of the garment from harsh laundry powders & from the abrasion of rubbing against other items of clothing. Ideally use a small amount of liquid detergent to avoid traces of powder left on the garments once dry.
Always wash with similar colours. The nature of indigo denim dyes is that the colour can bleed in the first few wash cycles so don't wash with your clean white socks or jocks just in case!
Avoid unnecessary washing where possible.  Indigo dyes fade with washing, sunlight & abrasion so only wash if you really must. Spot cleaning some of those happy little vegemite marks or playground dirt from the garment will not only help preserve the fabric, it will also help save you water & energy!
DRYING
The tumble dryer is not your friend!  As tempting as it is (yes we've all been there!) heat can create all sorts of problems for many clothes.  It affects different fibres in different ways but the main issue is synthetic fibers or trims. The elastic waistband, the zipper, the polyester thread or the elastane fibre in the fabric all become weak from this process & can shrink or deteriorate & break.  Keep your dryer for socks & jocks only!
Always shake out the jeans & pull into shape to avoid them drying with those spin creases.  Hang or dry flat ideally in the shade or if in sunlight make sure you keep them inside out to avoid the sun fading the indigo colour.
Once dry, the jeans may feel a little dry & stiff. They will soften up again during the first wear or you can iron/steam inside out to loosen & soften the fabric.
IRONING
Always iron inside out using the Synthetic/polyester setting. This helps avoid accidentally melting the elastane fibres & leaving a shinny finish. If this happens on the inside it's not going to affect the outside surface of the jeans as much. Although the fabric is mainly made up of cotton, their is elastane in the fabric fibres, polyester in the thread & synthetics in the waistband elastic. These can all be damaged if the iron is on the Cotton setting.  Never iron if their is a stain, the heat will set the stain into the cotton fibres so it will unlikely come out in the next wash.